Program Curriculum Model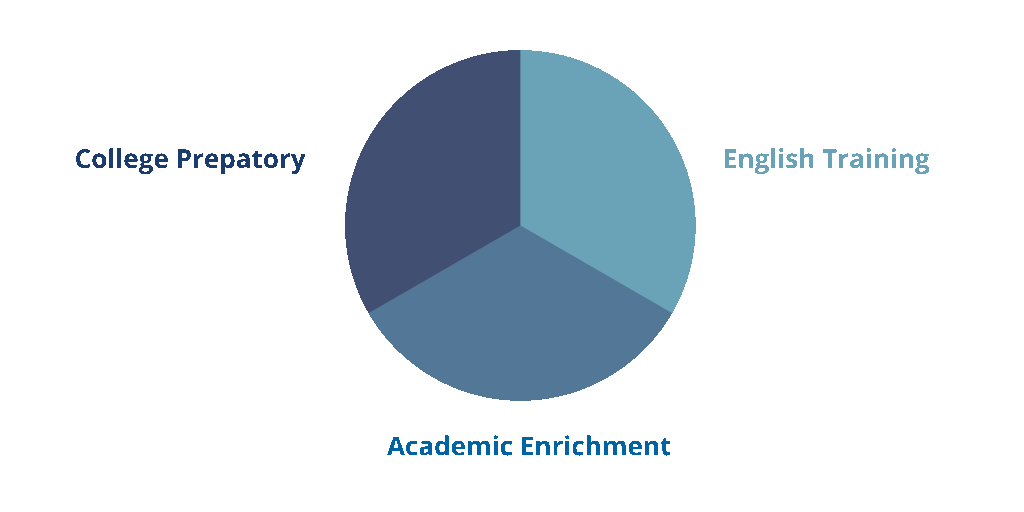 Early College Track provides the comprehensive curriculum to help high school students build academic communication skills with intensive English Training, engage in accelerated learning through Academic Enrichment, and gain successful College Preparatory transition and experience.
All students are expected to complete a minimum of one year of English training in the Early College Track. Grades 11 and 12 students are expected to take a higher proportion of Academic Enrichment and College Preparation courses due to a shorter time to graduation.
Program Course Offerings
English Training
Academic Enrichment
College Preparatory

Academic English Grammar & Writing
Academic English Speaking & Listening / Presentation Skills
Academic English Reading & Vocabulary
Advanced Conversation

English Literature
Science
Mathematics
Social Studies
U.S. History & Government Institutions
Electives (e.g., Business, Computer Science)

UCI Undergraduate Major / General Education Courses
Community Engagement and Project-based Learning
Undergraduate Application Assistance and College Planning
Research & Citation
Undergraduate Preparation Seminar
TOEFL/IELTS Test Preparation

Notes:

English Placement Test is required and is given only once to students at the beginning of the program.
The average student course enrollment is four courses per quarter.
Academic Enrichment coursework is offered in an accelerated format that equals one year of coursework per quarter course.
Courses are given based on students' academic performance, individualized study plan, and availability. Course equivalent substitutions will be recommended when courses become unavailable.
SAMPLE STUDY PLAN
Quarter 1: Fall
Quarter 2: Winter
Quarter 3: Spring

Academic English Grammar & Writing
Academic English Speaking & Listening
Undergraduate Preparation Seminar*
Math
Science

Academic English Reading & Writing
Academic English Speaking & Presentation
Undergraduate Application Assistance & College Planning (UAACP)*
English
Social Studies

Academic English Reading & Writing
Community Engagement and Project-based Learning
UCI Undergraduate Major / General Education*
U.S. History & Government Institution

*These courses have prerequisites that must be satisfied before enrolling.
FREQUENTLY ASKED QUESTIONS
To be accepted into Undergraduate STAR Early College Track as an applicant, you must provide the following documents:
The completed Undergraduate STAR application with a non-refundable $200 application fee. The application fee must be paid within 7 days upon our office's receipt of your application to be processed; otherwise, the application may automatically be canceled.
Copies of your official academic transcripts from the last 3 years to meet the minimum GPA of 3.4 out of 4.0
Copy of your current passport page that shows your photo.
Documentation for any educational gap prior to the intended start term of the Early College Tracl
Copies of English proficiency proof that meet any of the following minimum test scores: (This requirement is waived for all applicants for Fall 2022)
o TOEFL 71 / 530
o IELTS 6.0
o DCE 10-Week ESL Level 5
o SAT Reading & Writing 530
o AP English Language and Composition 3
o IB High or Standard Level Examination 5
o ACT Combined English/Writing or ELA 21
o Duolingo Test 95
o Zhongkao (from China) 85% in both English and Chinese subjects

Note:
1. TOEFL iBT MyBest Scores, Special Home Edition, Essentials, and IELTS Indicator will be accepted as long as all exams were taken within the past two years.
2. To send an official TOEFL or IELTS test score, please select the institution code B166.

English Requirement Exemption:
1. You have attended a high school for at least 3 years where English is the main language of instruction, or
2. You have attended a higher education degree program for at least 3 years where English is the main language of instruction and the country
Our program entry requirements and English exemption are not the same as any other programs at UCI.

UCI Division of Continuing Education reserves the right to deny acceptance to STAR. Applicants who are not accepted into STAR by UCI Division of Continuing Education will be notified in writing.
Complete the online STAR APPLICATION FORM and pay the non-refundable $200 application fee.
After you have been provisionally accepted into STAR, an official Acceptance Confirmation Letter will be sent to you. This letter is usually sent by e-mail. It will describe the STAR registration policies and request the required Program Deposit of $10,000 USD to be submitted to STAR within 15 days after the receipt of your Acceptance Confirmation letter. You will also need to submit copies of your or your sponsor's financial statements (e.g., checking or savings accounts) that meet our financial requirements for I-20 issuance. If you are applying as a transfer-in from another US institution, you will also need to submit a completed Transfer Evaluation Form.
(Note: Students who are government-sponsored must provide an official letter of financial support in lieu of the Program Deposit and any additional tuition and mandatory fees to avoid any delay in the application process or enrollment cancellation.)
After you have signed the acknowledgment form that is part of your Acceptance Confirmation letter, and STAR has received your required program deposit, you will receive an official Letter of Acceptance (LOA), Form I-20, and Welcome Packet. With the Letter of Acceptance and Form I-20, you will be able to submit a request for a student (F-1) visa from the U.S. Embassy or Consulate in your area.
You will have 30 days to pay the balance of the program tuition and fees. Confirmation of enrollment must include full payment of tuition and fees.
Please see Registration Policies & Deadlines for cancellation and postponement requests.
UCI Division of Continuing Education is committed to serving students from all diverse backgrounds. While the acceptance preference will be given to students who have met our minimum acceptance requirements, we recognize individual circumstances and offer a comprehensive review of every applicant. Thus, students who do not meet our minimum acceptance requirements are still encouraged to apply. It is important that students provide additional information (e.g., resume, community service, awards and achievements, and extra-curricular classes and activities) to demonstrate their unique circumstances.
Below are key selection criteria are taken into consideration for program advancing
• Score at least 85% in every CE or P/NP class offered by your program.
• Maintain at least a B average or Cumulative GPA of 3.0
• Comply with the program policies (e.g., in good academic standing) at all times
• Achieve at least TOEFL 80, IELTS 6.5, Duolingo 115, or B in 10-Week ESL Level 6 by the last day of the current quarter
Students who meet the above key selection criteria are expected to follow the program curriculum or their designed study plan. When students fail to meet the above key selection criteria, our academic advisors will provide alternative academic preparation courses to assist the student in making progress and maintaining their full-time status.
Please note that additional demonstration of any of the following is required to take a full load of UCI courses after the first quarter of the program:
• Have obtained SAT Writing & Language 31, SAT Reasoning Verbal 680, AP English 3, ACT English + Reading sections 63, IB English HL 5, IB English SL 6,
• Have completed UCI Academic English 20C or been exempt from the UCI Academic English courses
• Have completed at least 8 UCI undergraduate course units with a B average
Yes. Over 30 Honors and AP classes are available. Students are expected to meet the following minimum requirements to be eligible for enrolling in any honors or AP course:
Pass the placement test for the requested academic subject (e.g., Calculus)
Obtain at least a B+ from the most recent course of the same academic subject
Maintain a good academic standing
Demonstrate English proficiency by providing TOEFL 95, IELTS 7.0, or equivalent
Undergraduate STAR is an academically rigorous program, and students are expected to demonstrate high levels of engagement and learning. Thus, our classes are typically offered between 9:00AM and 5:00PM, Monday – Friday, with breaks between courses.
Additionally, we place high value on in-person learning and student experience on UCI campus. We will follow the UCI policies when it is required for us to change our instruction mode. Students who have special circumstances and can only study remotely in our program, please contact us.
There are many student activities, events, and trips organized on and off campus every quarter, which you can view on our Activities page here.
Also, below is a sample list of the student activities and clubs that are specifically designed for high school students for their personal growth:
3D Printing Club
STEAM Club
California Computer Recycling Club
Al4Action Club
Hackathon Club
APP Design Club
Music4Kids Club
Craft for Care Club
Global Young Leadership Practicum
Franklin Science Internship
The American Rocketry Challenge
Youth Public Services Institute
And many more
Students are strongly encouraged to take advantage of any and all extracurricular activities to enrich their student lives and build their extracurricular activities for their university / college applications.
Yes. Minimum full-time requirement is 12 units each quarter. F-1 student visa is required for students who are not U.S. citizens or permanent residents to study in this program on UCI campus.
Program Completion clearance will not be granted for a student with an outstanding debt related to their program tuition and fees, any outstanding misconduct charges, or unsatisfactory completion of all program requirements.
Yes. Students who have successfully met all the academic requirements are eligible to receive a high school diploma issued by our partner institution, Franklin Academy that is WASC accredited and the school is approved by the California Department of Education. Moreover, Franklin Academy has received the Certificate of Congressional Recognition from the Honorable Young Kim, Member of Congress, 39th District, for recognition of Franklin Academy's "dedication and commitment to youth education." The school has also been recognized by the Orange County Board of Education and the Orange County Supervisor Don Wagner for creating a "new opportunity to serve our community with its dedication and commitment to the education of our youth."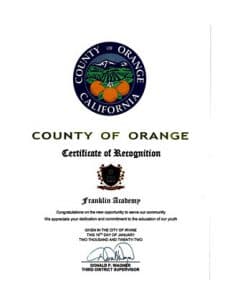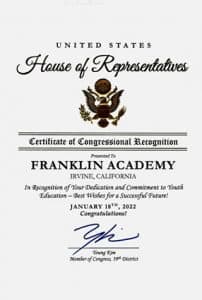 View the list of schools that have offered admission to our STAR students since 2011. In addition, students who have received the high school diploma from our partner institution, Franklin Academy, have obtained admission to Yale, Sandford, University of Pennsylvania, Johns Hopkins, Cornell, and Emory.
Completion of undergraduate STAR does not guarantee admission to undergraduate programs at UC Irvine or any other post-secondary institution. Admission to these programs is controlled by that institution's policies and admission standards.