Overview
Improve your international Business English communication skills in 2 or 4 week increments to further advance your career or succeed in one of our Accelerated Certificate Programs or an MBA program. Learn more about doing business in the U.S. as well as internationally. Study business concepts and business English, and enhance your cross-cultural communication skills for business and professional settings.
Course Delivery Format
On-campus Study
Remote Study

Meet your teachers and classmates in person
Access the beautiful UCI campus and enjoy its numerous resources
Live in and interact with a community where English is spoken outside your classroom
Interact personally with classmates, teachers, and UCI students before, during, and after class
Surround yourself with the culture of Southern California

Study from a location that you choose
Save time and money on travel and housing
Accommodate your studies to your life situation: working, living outside Southern California, parenting
Review recorded class meetings after each lesson
Connect with classmates, teachers, and UCI student services virtually
Benefits
Study in 2-week sessions for up to 12 weeks. Our 2- and 4-week ESL programs are suitable for students who want to combine part-time English study with a holiday abroad.
Improve communication skills by exploring management types, advertising and presentation skills, business etiquette and customs, and negotiation styles
Attend small classes – usually about 16 students
Develop a network of business contacts from many countries
Strengthen your English skills before starting one of UC Irvine Division of Continuing Education's many certificate programs or before entering an MBA program
Advance your skills further through your choice of Business Writing or Pronunciation & Vocabulary
Learn about business etiquette across cultures
Receive a certificate upon successful completion of your program
Requirements
Available to students 17 years and older with a minimum of intermediate English skill level determined by our placement test upon arrival
To attend this program full-time, you are required to obtain a student visa (F-1)
Our 2- and 4-week ESL programs are suitable for students who want to combine part-time English study with a holiday abroad. If you are coming to the U.S. mainly for tourism, and you want to take English language classes for your own pleasure or recreation, then a tourist visa (B-2) or Visa Waiver (WT) is appropriate
English proficiency requirements
UCI placement test scores equivalent to:
TOEIC
PBT TOEFL
iBT TOEFL
IELTS
500
450
45
4.5
Course Options
Options for incidental study available
Sample Class Schedule
English for Business Topics
7.5 hours/week
English for Business Communication
7.5 hours/week
Pronunciation & Vocabulary
(or)
Business Writing
5 hours/week
72 class hours per 4-week session
36 class hours per 2-week session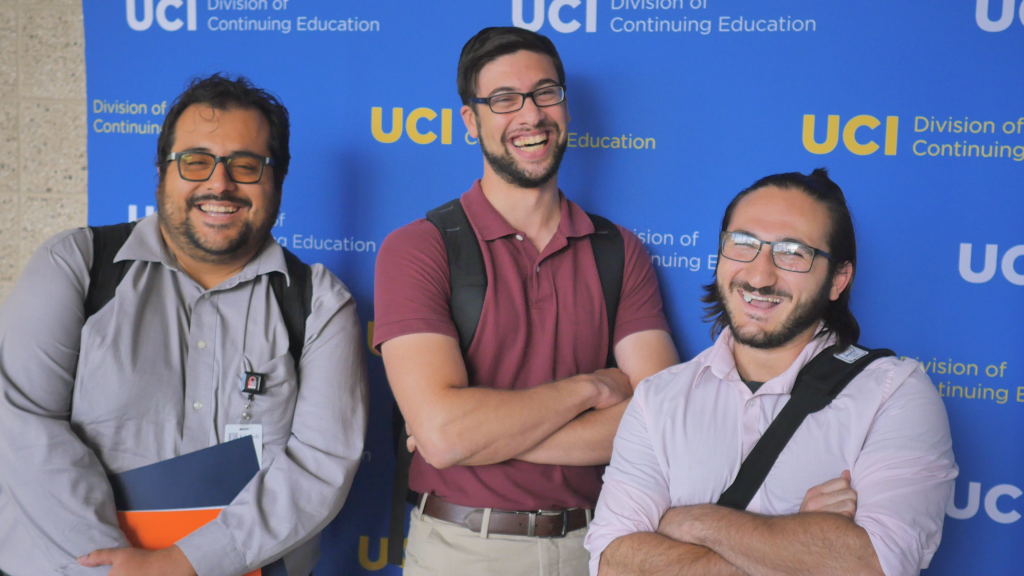 Frequently Asked Questions
Whether you choose to study on campus or remotely, classes meet Monday through Friday at various times between 09:00 and 17:00 (California time) with a minimum of 18 hours of instructor-taught class time per week for full-time students. Students will learn their specific class times when they enroll.
On-campus and remote students have the same attendance and participation requirements.
ESL students who do not require an F-1 student visa may study part-time.
A F-1 student visa is required for full-time, on-campus study.
You may study part-time with a tourist (B-1/B-2) visa or other visa status that allows for part-time study. However, you may not be enrolled in more than 17 hours of classes per week. If you are not sure if your visa status allows for part-time study, please contact an international student advisor at immigrationofficials@ce.uci.edu for more information.
No visa is required for remote study.

Program Cost
Full-time Tuition: $4,500
Part-time Tuition:
2-Week Business Communication: $650
2-Week Business Topics: $650
2-Week Business Writing: $450
4-Week Business Communication: $1100
4-Week Business Topics: $1100
4-Week Business Writing: $700
Current Discounts
Remote Study
A 33% tuition discount will be applied for this ESL program's remote study through the spring 2022 quarter
In-Person Study
A 25% tuition discount will be applied for this ESL program's on campus study for the fall 2021 quarter
Approximate Total Cost (for full-time ESL study before any discounts, excludes airfare): $10,500 USD
You can view all the tuition and fees rates on our Tuition and Fees page
English Plus
While enrolled in Business English, you can receive a discount for our online courses designed to enhance personal and professional development.
25% discount on first online course for ESL students while they are enrolled in the ESL program
10% discount for all subsequent courses
Courses may be applied to a full online certificate from UCI
See the list of available courses on the UCI Division of Continuing Education page here.