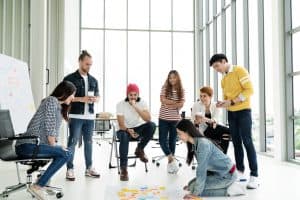 Professional Immersive Experience programs at UCI give students the opportunity to expand their knowledge and gain practical experience in just a few weeks.
These short-term, summer programs take place on our campus in the middle of the vibrant Orange County community and do not require a student visa.
Check back soon for future program dates
Program FAQ's For International Students
This is a part-time, non-credit program, therefore participants are not eligible to receive an I-20 or F-1 student visa.  If you plan to come to the U.S. mainly for tourism and have a tourist (B) visa or ESTA, you may apply to this program.
If you would like to be picked up from either Orange County Santa Ana airport (SNA) or Los Angeles International (LAX), you can arrange for an airport pick-up by our staff. Please visit the
Airport Pick-Up Service
page to learn more or book your transfer.
Alternatively, you have the option to take a taxi, rideshare, or shuttle bus arranged on your own.
As a student at UCI's Division of Continuing Education, you have access to housing with our partners: most popularly, in university apartments or with a homestay. To learn more about the options, as well as to arrange your housing, visit the
Housing
page here.
Because these programs do not require student visas, there is no application process, and you can simply enroll through our DCE website. Visit the Experienceship program webpage you are interested in, and follow the Enroll Now link on the individual page.
Medical insurance coverage is required for visiting international students and is included the cost of the program.  Additional information about the medical insurance plan will be provided to students upon their arrival at UCI Division of Continuing Education.
Cancellations must be requested in writing to
dce-drop@uci.edu
.  To be eligible for a refund, your written cancellation request must be received no later than 1 week before the program start date.  Please refer to your enrollment confirmation for the refund deadline date.  Not receiving your enrollment confirmation before the program begins is not justification for seeking a refund.  All refunds are subject to a $25.00 non-refundable and non-transferable administrative fee except when a course is canceled or rescheduled by UCI Division of Continuing Education. In the event a course is canceled or rescheduled, a full refund of the course fee will be processed. UCI Division of Continuing Education refunds back to original payer and in the original form of payment.  Please allow a minimum of 3 weeks for processing.