Safe, Comfortable, Convenient Apartments
Fully furnished 2-bedroom, 2-bathroom apartments shared by 4 international students of the same gender
Vibrant, inclusive community with a large UCI student population
Wireless internet, cable TV, and DVD player are provided
Access to pool and Jacuzzi and basketball, tennis and volleyball courts
Apartments include bed linens, towels and kitchen cookware
Approximately 2.5 miles (4 km) from UCI
UCI shuttle service available (additional cost $90 per quarter)
Adjacent to public bus route, international grocery store, large park, and shopping center
Students provided bicycle for their use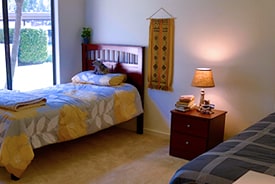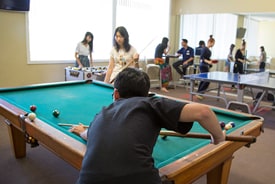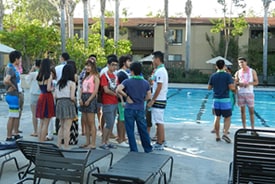 Resident Services, Activities, and Mentoring
UCI undergraduate student Resident Advisors serve as mentors and assist students with their transition to UCI
Community-building activities, such as barbeques, movie nights and picnics for students to meet and interact
Social and educational activities that promote English proficiency and an appreciation of American and international cultures
24/7 access to on-site staff dedicated to assist international students with any maintenance and facilities issues
Activities to promote UCI Anteater pride and spirit
Apartment Options
International Programs has recently partnered with RexIrvine to give you the option to select the perfect living environment for yourself… and for a lower price than before! Whether you prefer the popular Park West Apartments or the resort-style Villa Siena Apartments, you are guaranteed comfortable, convenient, and safe accommodations– both just 4km from campus!
Fees
Housing costs have been reduced to relieve the stress of searching for other housing options near campus. Click the link below to view our new, reduced housing fees (effective Fall 2017).
2017-19 University Apartment Fees
Note: A $250 housing placement fee and $500 refundable security & damage deposit are due at the time of application. Housing fees are due 30 days in advance of the program. All fees should be submitted to RexIrvine. Signed housing contracts are binding for the duration of the program.
Also available:
Private rooms
One-bedroom apartments (Price is higher than shared apartment)
Housing for continuing students during vacation periods and following quarters (for an additional fee, depending on the enrolled program)
Questions? Please visit www.rexirvine.com